On 27 May the Rais (Head) of Tatarstan Rustam Minnikhanov, who came on a working trip to Astrakhan region, took part in the XIII All-Russia rural Sabantuy held in the Tri Protoka Settlement of the region.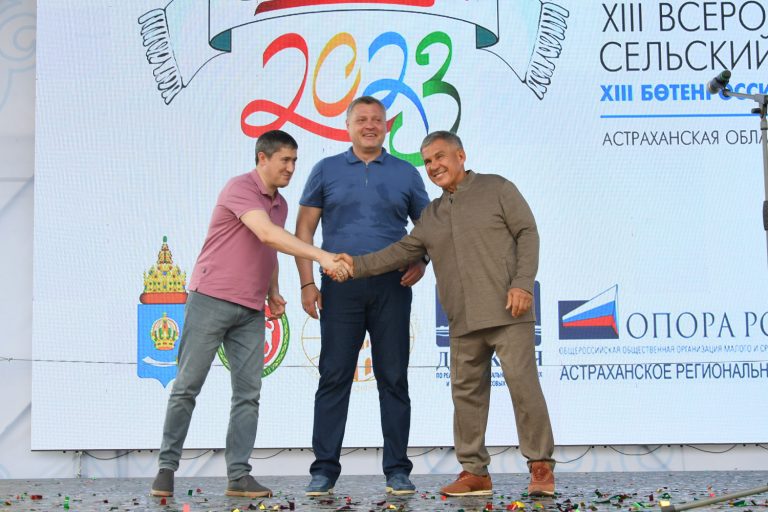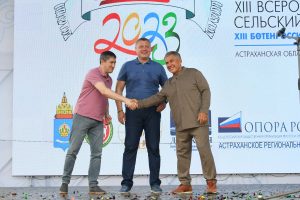 Rustam Minnikhanov together with the Astrakhan region Governor Igor Babushkin and the Governor of Perm region Dmitriy Makhonin launched the holiday which began with the bright stage show performed by Tatarstan and Astrakhan artists.
Welcoming the guests of the holiday, Igor Babushkin said that it is a great honor for residents of his region to host the All-Russia rural Sabantuy. "We are happy to welcome all our dear guests. Residents of Astrakhan always celebrate Sabantuy with a special swing. This long-awaited event unites more than 140 ethnicities living on our land as one big family," he said.
In his turn Rustam Minnikhanov said: "Today we are having a hallmark event celebrating the first Sabantuy this year in Astrakhan. I say special words of gratitude to the Governor and his team for the wonderful organization and also numerous delegations which are here with us. And of cause I would like to thank all residents of Astrakhan as we fully feel your hospitality and cordiality."
He gave high appreciation to interconnection of Tatar and Astrakahn cultured demonstrated in the show, saying: "Sabantuy is the festival of friendship. It unites us and reflects unity of Tatars, Russians, Mari, Udmurts, baptized Tatars and other ethnicities. We are all living in big Russia."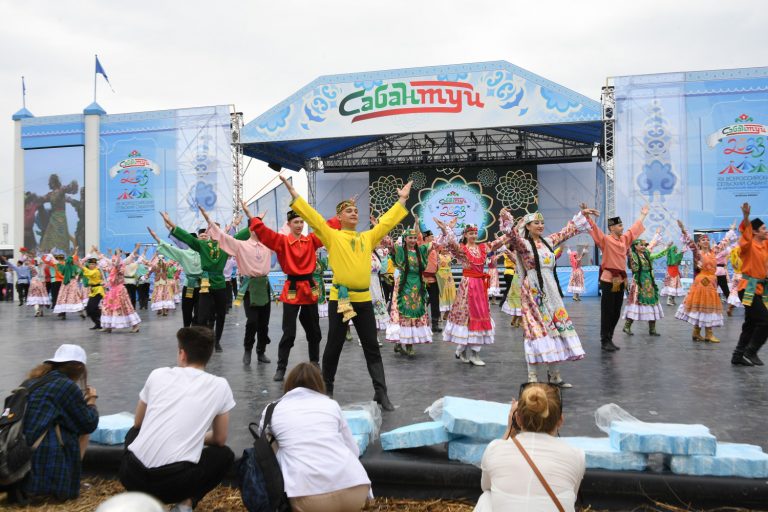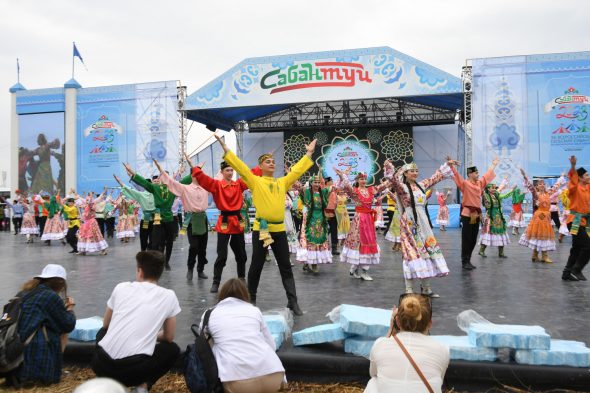 The Governor of the Perm region, which hosts the XIV All-Russia rural Sabantuy next year attracted attention to the fact that Sabantuy is loved all over the country including his region.
The honorary guests also visited special festive spaces of Sabantuy, where more than 70 craftsmen from Tatarstan, Dagestan and Stavropol, Volgograd and Astrakhan regions organized an exhibition of arts and crafts, the Ethnic Village where they could see Kazakh, Turkmen, Nogay, Kalmykia, Russian, Cossack  and Tatar farmsteads, the belt wrestling competitions and horse and camel races.
The Press Office of the Rais of Tatarstan, Bulat Nizameev